I have been excited to share this quilt since January! It's such fun! When I first looked at Island Batik's River Valley collection
designed by Kathy Engle for Deb Tucker's Studio 180 Design
s I immediately thought it would make a great quilt for a man because of all the gorgeous blues and greens.
To this beautiful collection I added white and a Island Batik solid foundations color called Storm.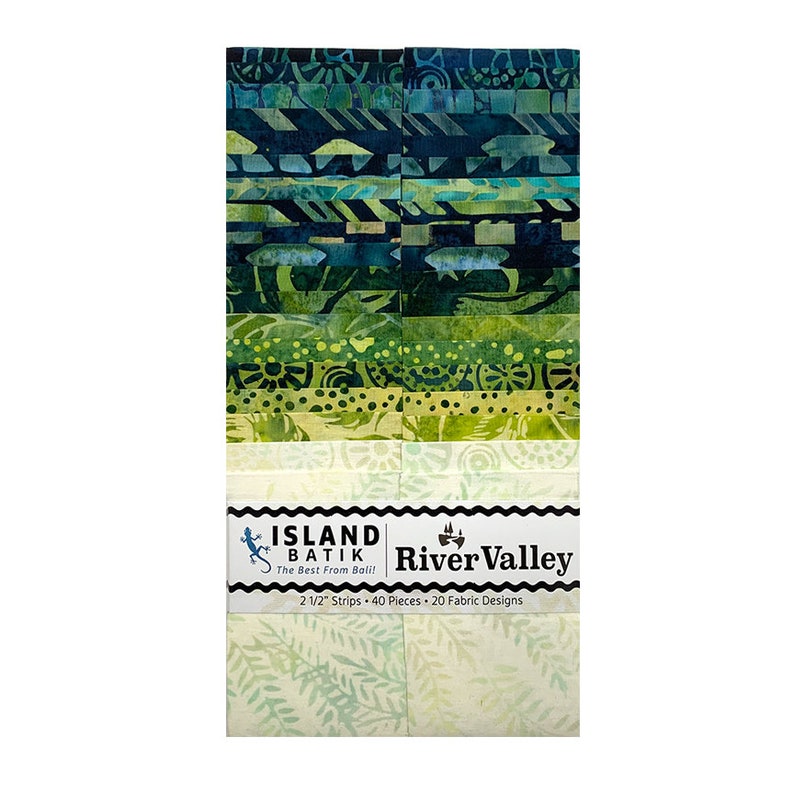 I decided to design a block that was simple and elegant and looked appropriate for a masculine quilt. I'm quite happy with the results.
I chose to do a really random scrappy quilt, but with a white background I wanted my squares to stand apart in color so I left out the very lightest strips. Then, I cut my strips into 2 1/2" squares using my
Accuquilt
GO! Big. Next, I randomly sewed them into pairs or triples to create my blocks. I stitched my blocks with my favorite
Schmetz Microtex Needles
(they slide through batiks so well) and
Aurifil
thread in white.
This quilt is BIG! Almost twin size, so I asked my mother if she would quilt it for me on her longarm. She did a great job quilting leaves in the blues and green and some beautiful feathers in the white. Inside the quilt is of course my favorite
Hobbs
80/20 Cotton/Poly batting.
I hope you get to quilt today!
Suzy

PS! Be sure to check out all the other Island Batik Ambassadors and their amazing projects!
Asmussen, Carolina
Wilton, Connecticut
https://www.carolinasmussen.com/moodboard
Best, Megan
Ferndale, Washington
ww.bestquilter.com
Boatright, Pamela
Coos Bay, Oregon
https://www.pamelaquilts.com/
Fulton, Jennifer
Indianapolis, Indiana
http://www.inquiringquilter.com/questions
Govindan, Vasudha
Houston, TX
storiedquilts.com
Hart, Joanne
Birmingham, UK
www.unicornharts.com
Hatziioannidi, Mania
Athens, Greece, Europe
www.maniaforquilts.com
Henton, Carla
Wright, Kansas
http://www.createinthesticks.com/
Kauffman, Connie
Nappanee, IN
http://www.kauffmandesigns.blogspot.com
Leachman, Emily
Charlotte, North Carolina
http://thedarlingdogwood.blogspot.com/
Looney, Denise
Grafton,Il
https://fortheloveofgeese.com
Malasky, Leah
Lake City, SC
http://www.quilteddelights.com
Manke, Sally
Arcadia, Michigan
https://www.sallymanke.com/blog
McAuliffe, Maryellen
Franklin Square
http://www.marymackmademine.com/
Moellers, Carol
Greene, Iowa
https://carolmoellersdesigns.com/welcome/http-carolmoellersdesigns-com/
Renna, Gail
Tallahassee, FL
http://quilthaventhreads.wordpress.com
Riley, Sharon
Wallingford, PA
https://www.facebook.com/SewRileyDesigns/
Roberts, Michelle
Bethersden, kent, UK
www.creativeblonde.co.uk
Sheppard, Gail
Surrey, British Columbia, Canada
https://quiltinggail.wordpress.com
Strauser, Jennifer
METUCHEN, NJ
http://dizzyquilter.com/
Thomas, Jennifer
Henderson, North Carolina
https://curlicuecreations.blogspot.com/
Vermilya, Alison
Gettysburg, PA
https://littlebunnyquilts.blogspot.com/
Walker, Sandra
Kingsville Ontario Canada
http://www.mmmquilts.com
Webster, Suzy
Apple Valley, MN
https://websterquilt.blogspot.com
Yamamoto, Janet
Hamilton
https://www.facebook.com/WhispersOfYore/